Explore the mines deep beneath the surface of the Earth in the Wild Drops slot developed by Betsoft and released in June 2021. Dazzling fortune awaits you in this dark and mystical place. The dwarves have abandoned the place and left their carts full of gems hanging from cables connected to various gears. Don't ask me why they left their find in this state, but it is now within your reach!
By activating a spin, you could collect these colourful stones that bring light to this dark environment but also big rewards to the player. The RTP of the Wild Drops slot is 96.11%.
The Wild Drops slot consists of 5 reels with 8 rows, winning combinations pay on both sides starting from the leftmost or rightmost reel with a total of 16 fixed paylines corresponding to each horizontal line. You create a win when 3 or more identical symbols appear in a horizontal line on the grid.
The symbols consist entirely of gems, the gold nugget is the substitute wild and will pay the highest payout with a maximum payout of 25x the bet. The silver gem pays up to 10x the bet, and the green up to 5x the bet. Then there are the blue ones that pay up to 2x the stake and the others that will settle for low payouts of up to 0.5x the stake.
Matching Gems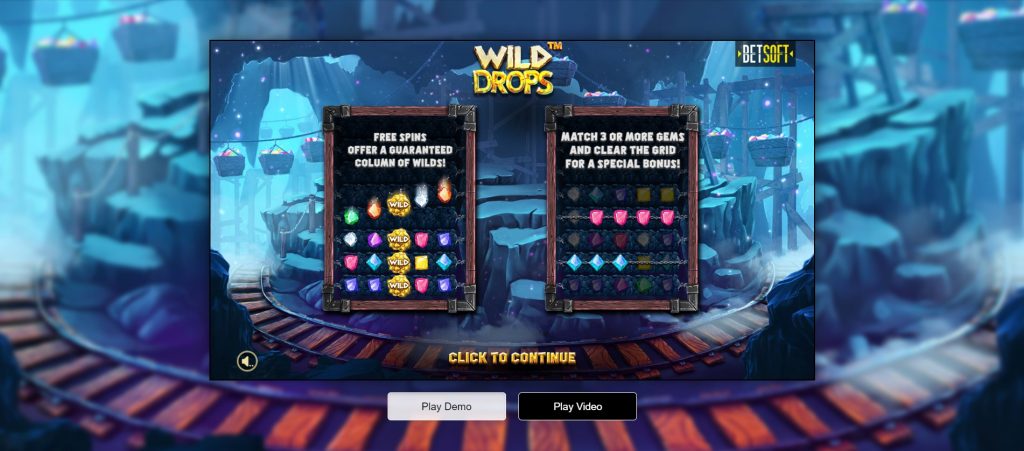 Each spin completes the grid with gems. You must get 3 or more identical gems lined up left to right or right to left for the combination to count. All winning combinations are destroyed and the top gems fall to the empty spaces. There may be new wins formed as a result of the stunt but there will be no new gems appearing on the reels. New combinations are destroyed until there are none left or until the grid is completely cleared.
If the player manages to clear the grid completely, then you will multiply your previous winnings by 5.
Free Spins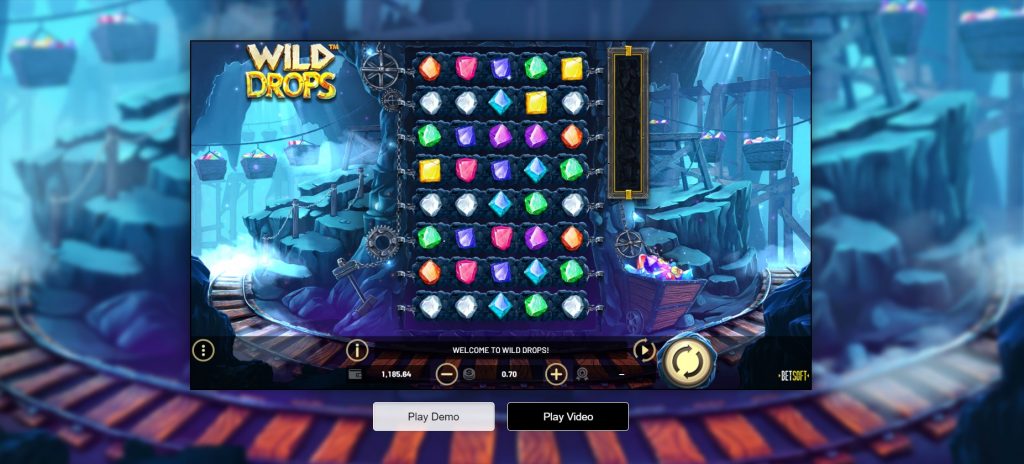 Behind the gems are coins to collect. By clearing the gems, you can collect these coins which will lead you to the Free Spins if you find all 5. The progress bar on the right shows the number of coins collected. By activating the bonus, you will win 5 free spins.
During the Free Spins, the benefits are multiple, each spin comes with a column of Stacked Wilds in the centre. Also, clearing the entire grid during the free spins will multiply your bonus winnings by 10x.
Wild Drops works with original winning mechanisms from both sides. One might find the cascade feature a little frustrating given the lack of new symbols being added to the screen with each win, but this feature is complemented by a multiplier in case you manage to clear the grid, which isn't a bad thing after all.